Dreaming of Summer Decking?
With the warmer weather finally here, it's time to start planning for summer! The garden is starting to look inviting again, having shaken off its winter chill and started calling to us with the promise of sunshine.
If you want to spend more time in your garden this year, then a new decking area could be the way to go. Add sunchairs, a lounge set-up, or even a stand-alone bar: bring your garden to life this summer with the addition of a garden deck.
Before you begin your summer decking project, here are some important factors to consider. At UP Building Products, our decking is used in a variety of inspiring projects: each one is unique, so how will you construct yours?
To Raise or Not to Raise?
The first question to ask when planning a deck is whether you want it to be flat or raised. A raised deck is a wise solution if you are looking to build on uneven ground: this will create a flat area within a sloped garden, able to be utilised all year round. Or create a featured seating area in an already flat garden with simple decking.
Flat decking is also widely considered as easier to construct, as you don't need to make sure your platform sturdy enough to support you and your guests – the ground will do that for you! However, raised decking adds layers to your garden and helps your new social area to stand out. The choice is yours, and each will enhance your garden in its own way.
Shape
When you picture your ideal decking, what layout do you see? Every garden is unique, with varying sizes, terrains and existing features such as flowerbeds, trees or ponds, not to forget your garden walls.
When planning your decking project, it is important to bear your garden's layout in mind. You will need to work with your space, both to create the ideal look and flow, and on a practical level. How much lawn space do you want to preserve? If you have children or dogs, you may want to make sure you keep enough for them to play on. Do you want your deck adjacent to a wall? What about adding a balustrade? The more elements you add, the more complex the build will be.Rectangular or square decks are popular, go-to designs. An even, straightforward design that is versatile, suiting either a traditional or modern feel. If this is your first decking build, we would recommend this square or rectangular option: it presents fewer challenges, and the final result can be just as striking.
However, if you are up to the challenge, a curved deck can soften the look of your garden, as well as allowing you to work with and around its existing elements more organically. This choice is ambitious but effective and allows far greater freedom in where you choose to build.
Pattern
Once you have your basic plan in mind, the bespoke customisation can begin. Each detail to your deck allows you to make a statement about the tone of your garden. Do you want it to look sleek and modern, or a little bit rustic? One way to alter the appearance of your deck is through how you layer your decking boards: this is your chance to think about patterns.What patterns are there? Some of the go-to options include:
Horizontal or vertical
Diagonal
Chevron
Zig-zag
Picture-frame
Each option will change the way the eye travels around your deck. Remember to also consider how this will pair with the shape you have chosen, and think about what size you would like each board to be. At UP Building Products, our composite decking boards are all W 150mm x H 25 mm, with a range of cores, noses and finishes, all of which will also lend an impact to your final pattern design.
Materials
Before you can begin your decking project, you need to select your materials! There are many different types of decking boards, usually made from wood, plastic, fibreglass or aluminium.
At UP Building Products, we pride ourselves on only supplying materials that are durable, high-quality, safe to work with, and will keep that freshly finished look for longer. This is why we deal exclusively in composite decking.
Composite decking has several advantages over other decking board types: it requires less maintenance, is long-lasting, and is also incredibly cost-effective. Made from a combination of wood and plastic, these composite boards will give your deck that wooden look and finish, but due to their low absorption and increased strength, they are without the risks of cracking, warping and weathered wear and tear. Instead, composite boards are easy to clean, are weather-resistant, warp-resistant, pest-resistant and won't splinter all in all, a safer and easier-to-keep surface to add to your garden. These boards also come in at a fraction of the cost but with all the style and look of their wooden counterparts.
Accessorise
You might think furnishing your deck would need to wait until construction was finished, but it is worth having an idea of your intended end result now.
Furniture
Do you have a particular lounge set or outdoor rug that you would like to use? It is important to know whether the colours of your garden furniture and your deck will complement each other, or whether the patterns will clash! Are you going to add sunchairs? If so, think about which view over the garden you would like to see and make sure that your deck has enough room.
Plants
Plants help to integrate a deck with the rest of the garden, extending the luscious green up and around your seating area. This looks fantastic on any type of decking, but they are especially handy in softening the edges of a rectangular build.
Lighting
Are you planning to sit out there at night? In which case, how will you light it? Firepits are a popular option, with floor lights providing a fantastic modern alternative. If you would like floor lights, you are going to need to know before you lay those decking boards down.
Colour
Once you are happy with your design, it's time to make the final decision on colour. You might want to match your home exterior, or you may wish to create a pleasing contrast. Light tones can create a rural or airy feel, whereas darker tones may fit well with a more modern approach.
At UP Building Products, we provide composite decking boards in an array of colour options that lend themselves naturally to both traditional and modern visions. Dark tones such as Charcoal or Coffee, lighter tones such as Ivory or Light Grey, or warm tones such as Redwood or Teak, we have something for every design.You can explore our colour options here or view our decking brochure for a full view of what's on offer.
Get Building!
Now that you've thought about the big questions behind your decking build, it's time to get started! At UP Building Products, we supply high-quality, professional-grade materials for construction teams and DIY build alike: if you have any questions or would like to browse more of your material options, you can get in touch or visit us at your local branch in Maidenhead, Newmarket, Enfield, Ipswich, Sutton Coldfield or Bury St Edmunds.
Learn more about our composite decking boards and browse how they could boost your decking design today. Call us on 03331 880780 for more informatio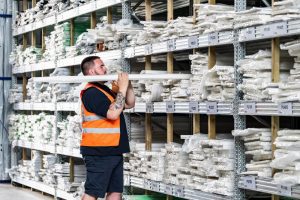 Branches
Sutton Coldfield: New Branch Opens We are thrilled to announce the launch of our brand-new
Read More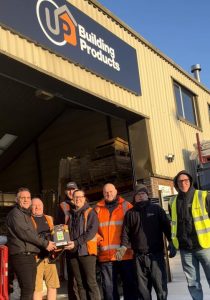 Branches
Defibrillator to the GoodSAM Scheme UP Building Products recently donated to a great cause and
Read More